Welcome to the
Chester Massachusetts Railway Station & Museum.
10 Prospect St. Chester, MA 01011
413.354.7878
---
Railroad to the Moon
A documentary produced by the Chester Foundation.
A documentary in progress to show the railroad history in Massachusetts and the First Mountain Railroad in America engineered and constructed by George Washington Whistler, Whistler's Father, who married Whistler's Mother, of course, long before the famous painting. Consisting of ten Keystone Arch Bridges over the Mountains in Western Massachusetts. A trail was constructed leading to the seven remaining Remaining Arches in Chester Massachusetts Called The Keystone Arch Bridges Trail making it a wonder for all to see.
A Geoff Alson Video
Alson Video Productions
---
May 20, 2017, CHESTER ON TRACK
(COT)
CHESTER MASSACHUSETTS.
This was the 26th anniversary for Chester On Track
The 176th anniversary of the opening of the Western Railroad,
now the CSX Boston Line.
This year was a great success thanks to the people of Chester and the many that came to town for the festivities.
Many people are involved in presenting COT and spend days to fulfill their contributions to the day.
We were fortunate this year for the loan of a unique audio system loaned to us by the Chester Common Table Restaurant
Directly across the tracks from the Station/Museum at 30 Main Street
I had dinner at the Common Table directly after the show and can tell you the food was fantastic.
What you missed this year if you couldn't make it:
Massive parade,
Massachusetts 10th Civil War re-enactors encampment,
Blacksmith demos,
and early Irish railroad re-enactors.
Chainsaw carving
'Dress up your bike' and 'dress up your pet' contests.
Live music all afternoon,
train show & craft fair,
1840's railroad station museum,
named a 'Hidden Gem'
by U Mass, in Historically Listed downtown.
'one-lung' steam & gas engine demos, tractors,
Model 'T's, and classic cars,
duck race, petting zoo, bounce house.
A number of 1920's-era freight cars,
including wooden caboose,
and 'Children's Boxcar' on display.
Pinewood Derby,
Large scale locomotives and rolling stock
from the Pioneer Valley Live Steamers,
Guided mineral collection tour at Hamilton Memorial Library
and
Chester Historical Society at the 'Old Jail' will be open.
Hike to the first American cluster of stone arch RR bridges
on Massachusetts' first Wild & Scenic River,
tour a working granite quarry and archeological stone works,
historic displays, food & more!
FREE
(donations accepted)
More info: (413) 354-7878 or P O Box 743,
Chester, MA 01011-0743.
Like Chester Railway Station on Facebook!
---
---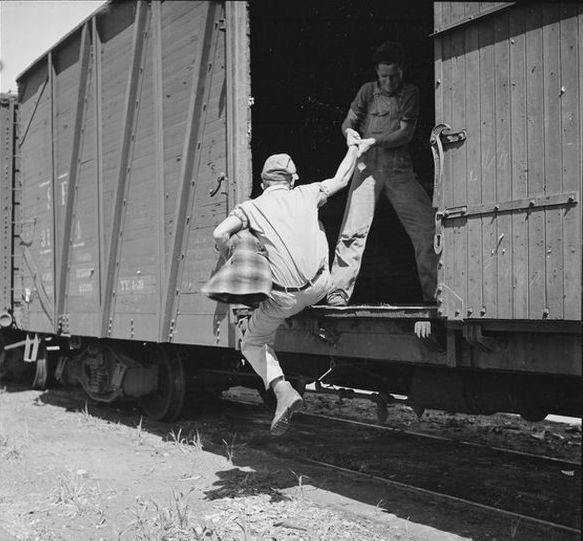 "
---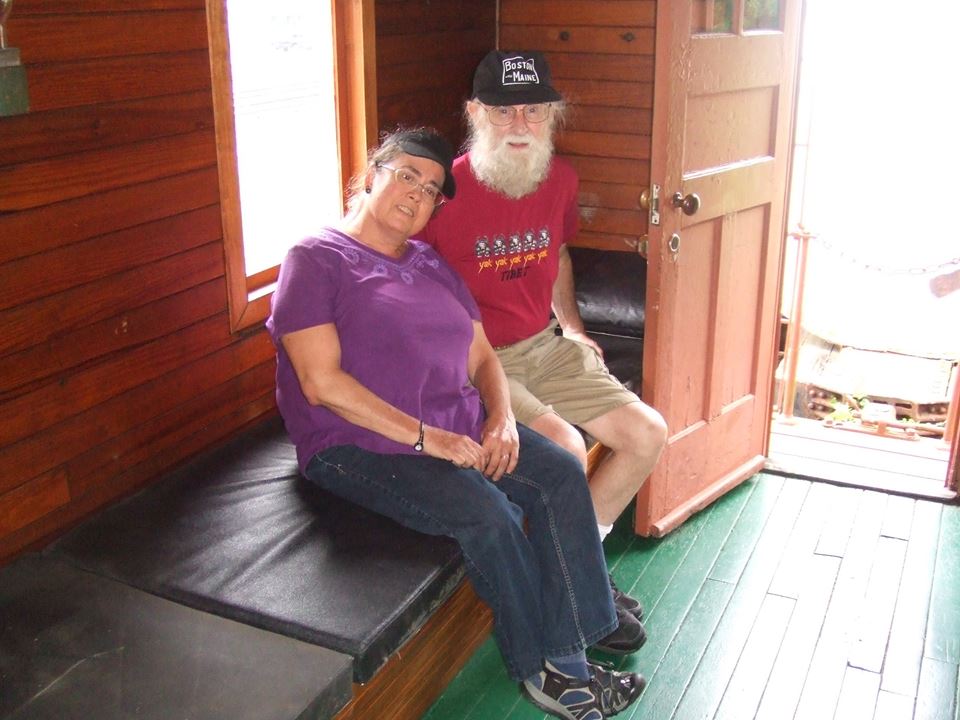 Best estimate puts us at 18+ years of offering a truly unique camping experience in our 1919 wooden caboose at Chester Station. One thing lacking during all those years has been a set of original cushions for the wooden bunks.
This came to an end on Thursday, 7/30/15, when Alden Dreyer and Sally Wetherbee, associated with the Shelburne Falls Trolley Museum www.SFTM.org generously donated and delivered a set of three (out of four needed) on behalf of the Trolley Museum. This is a red letter day in the history of Chester Caboose Camping. The cushions cleaned up beautifully.
Originally donated to the SFTM by George (Skip) Ford, the cushions fit none of the equipment in Shelburne Falls. George has become a benefactor of the Chester Railway museum and tipped us off to the existence of our long-coveted cushions. We offer many and sincere thanks to George, Alden, Sally, Sam Bartlett President, and the members of the SFTM for helping to make the experience of out guests more comfortable and authentic. Pictured are Sally and Alden in the Chester Caboose.
Wednesdays and Thursdays are the best days to visit or by appointment. It is best to contact us if you plan to visit the station/museum
Call 413.354.7878, or Email Dave
You can also send us a message on Facebook (Chester Railway Station).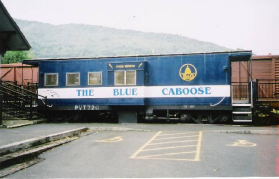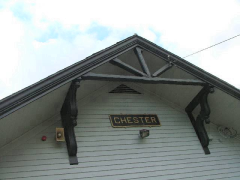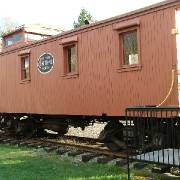 ---

The Chester Foundation is a non-profit organization made up of volunteers to run The Chester Railway Station museum and event venue.
We welcome volunteers to help out with the events held and the upkeep of this magnificent historic building.
---
The Westfield Beneath the Arches
---
ARCH PRINTS AVAILABLE
The Chester Foundation is offering a series of affordably priced limited and open edition watercolor prints by renowned artist, Steve Hamlin of Huntington of the magnificent Keystone Arches of Chester, Middlefield and Becket. A portion of each sale is being generously donated by Hamlin to the Foundation for the upkeep of the Chester Railway Station on Prospect St. in Chester.
Call 413.354.7878 for more information.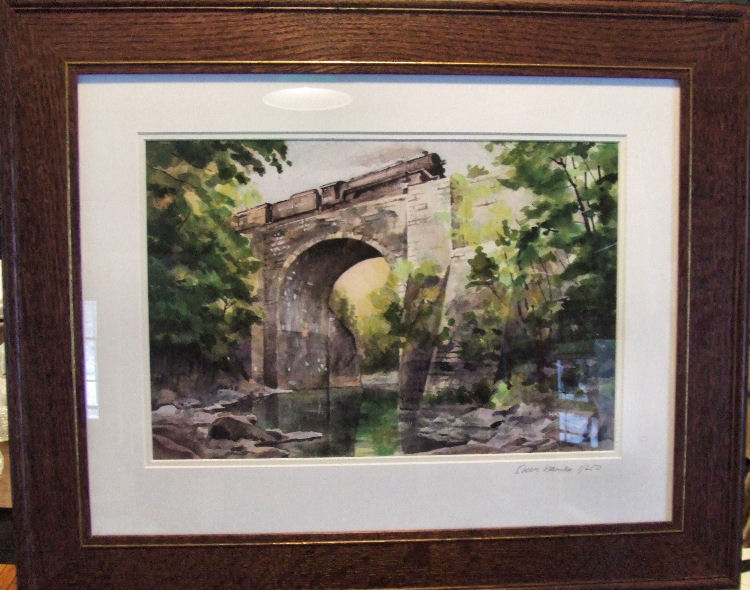 Painting 1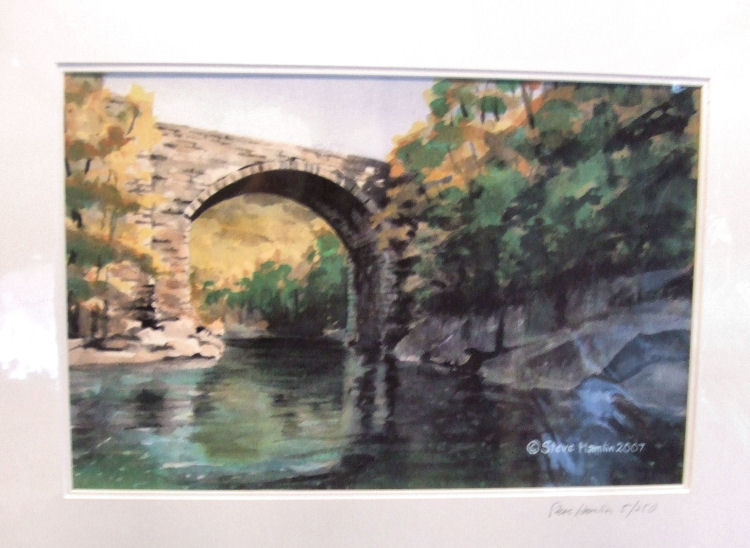 Painting 2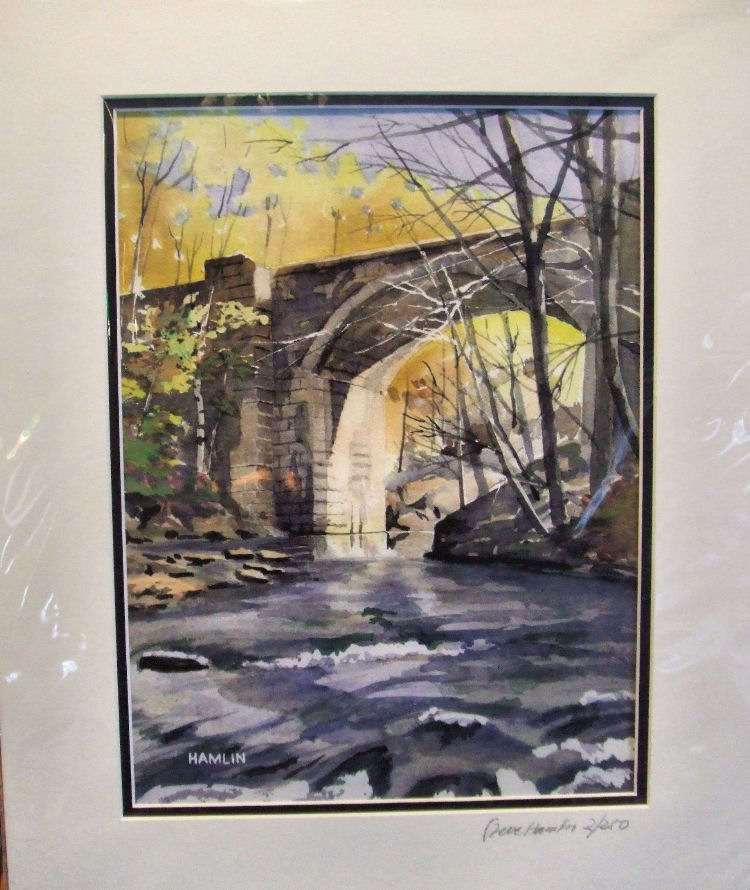 Painting 3

Got us some pretty good publicity, and floated some of the Historic Landmark reasoning by the experts, when TRAINS magazine, the 'bible' for fans and members of the industry alike, printed my attached letter to the editor in response to a recent article.
Also proud to say they printed it as written with no edits, only added the name and date of the article referenced
---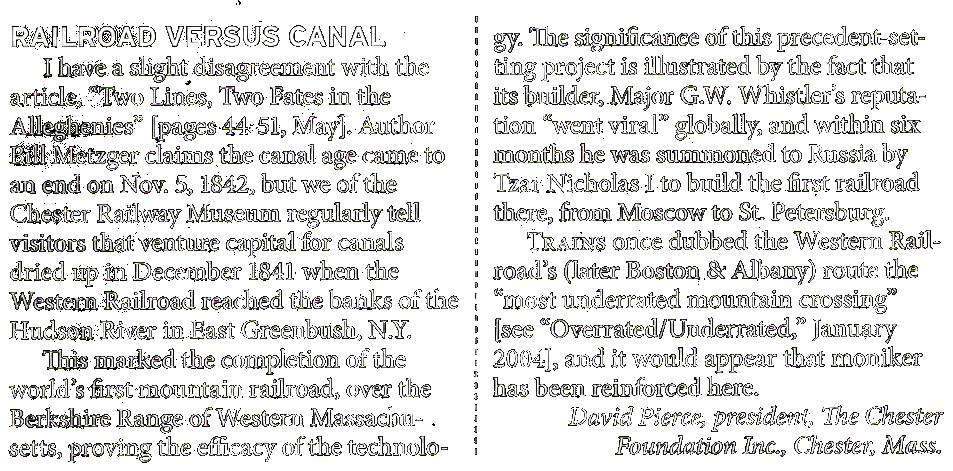 ---
Last weekend I met a cool dog.....and his owner. :-)

A visitors account with excellent photos taken during his visit.
Welcome Mark.
---
BEST STOP FOR FAMILY FUN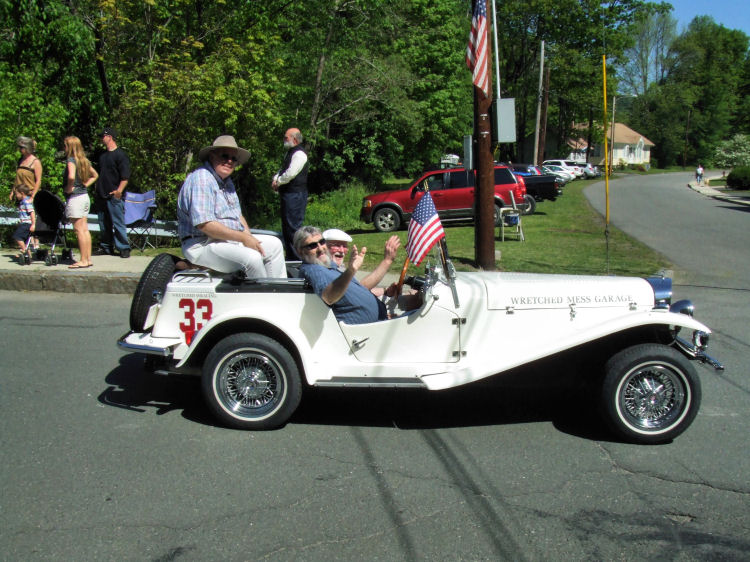 Connie Fitzpatrick, owner of the Wretched Mess Garage transports Peter 'Pepa' White, Chester Foundation webmaster and Parade Marshall George Wheeler in the annual Chester On track parade.
PHOTO BY DAVE PIERCE
---
Amherst Railway Society Railroad Hobby Show
Thanks for coming out to see us and for supporting the Hobby Show.
---
Chester On Track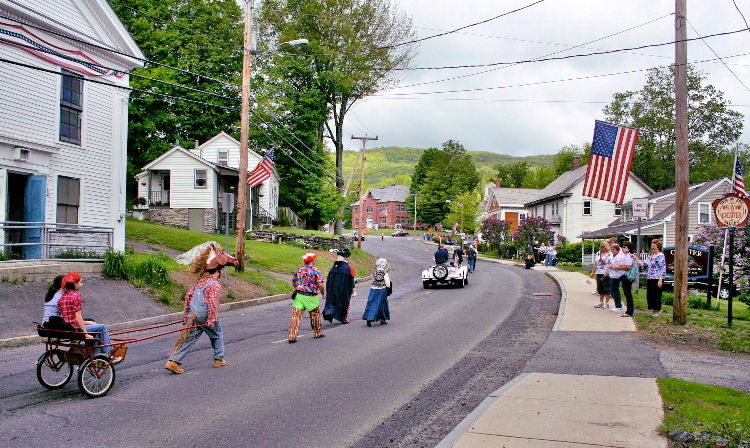 The Parade Started the Day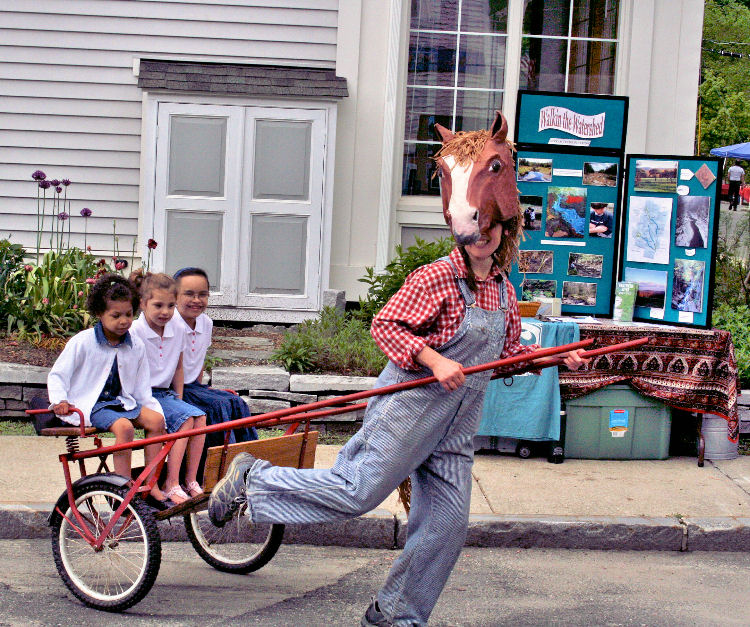 Maggie the Saw Horse was again a thrill for the kids.
Train Viewing on the Stations Back Deck.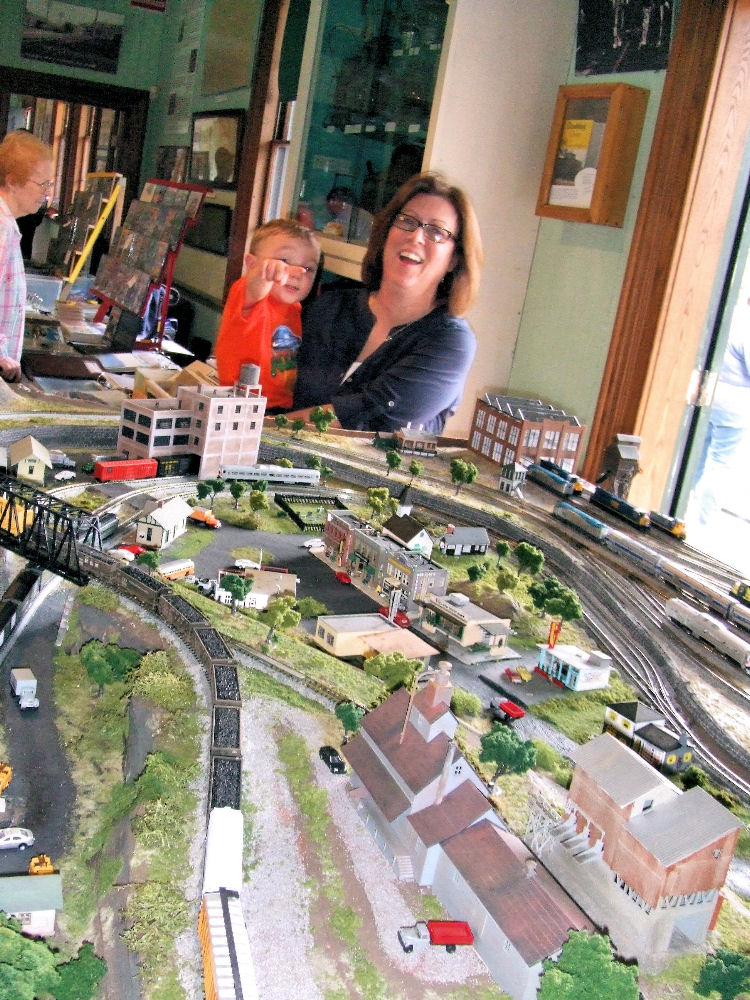 A Real Treat for Everyone was this Spectacular Layout.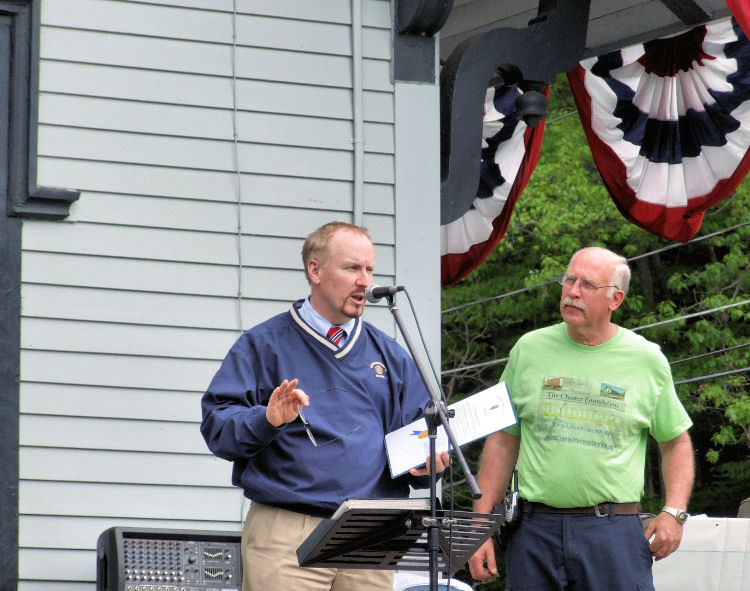 Senator Michael Knapik and Dave Pierce.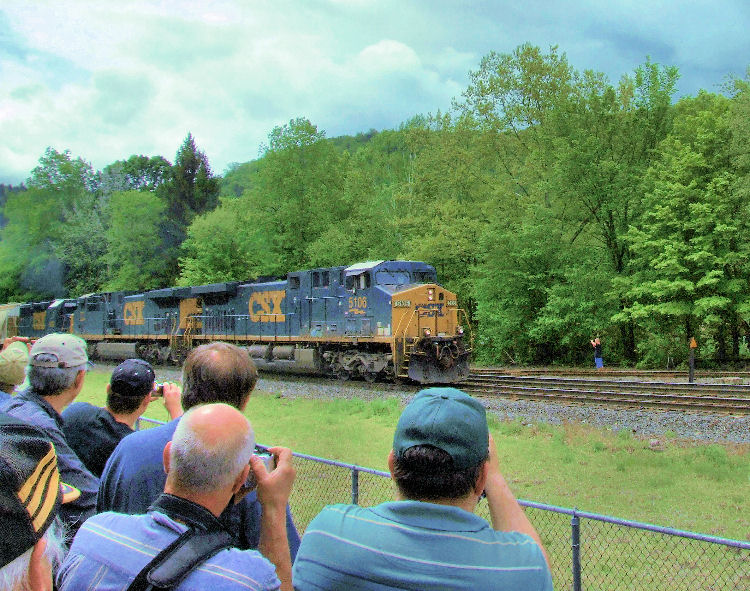 Every Day Entertainment.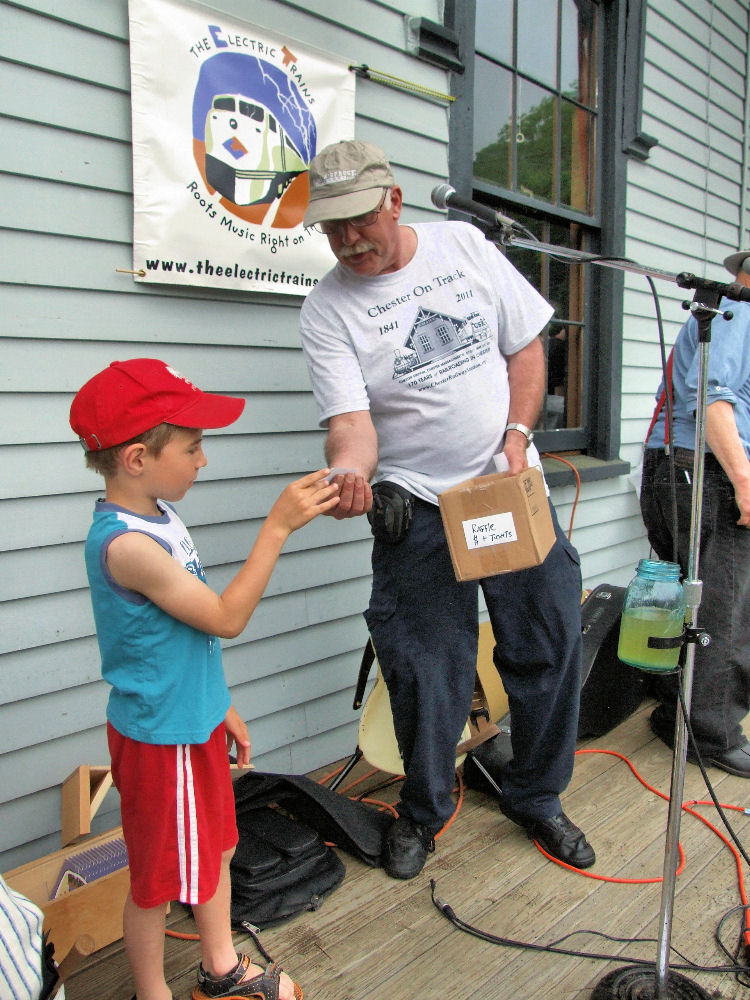 The Raffle Drawing.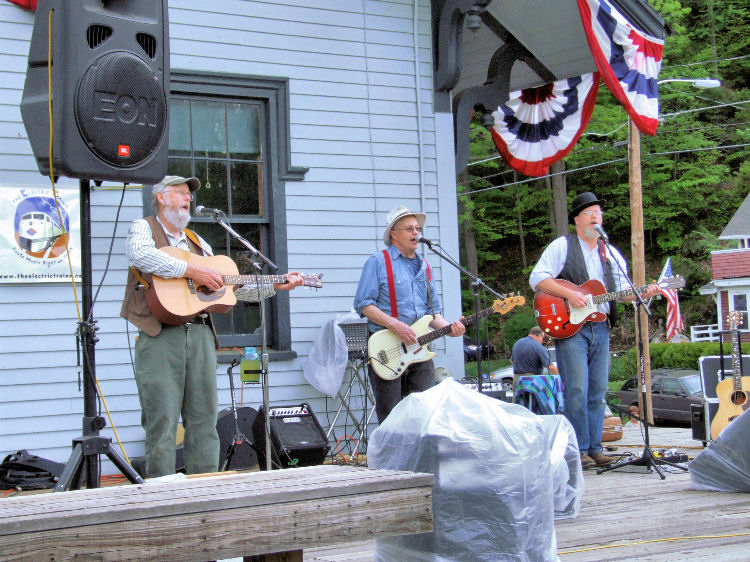 Coming and Going.
Thank you for supporting the great town of
Chester Massachusetts.
---
Santa and Mrs. Claus came to town...
Sunday December 11th
So we decided to have a
Christmas Party here at the Depot.
---
The Hobo Harvest Dinner was a complete success. We were overwhelmed with the success and want to thank everyone who made this possible.
---
To all our generous supporters:
This is a message of deep gratitude for those volunteers and members who contributed to the overwhelming success of the Hobo Harvest Dinner, either by preparing, serving, washing, or generally running around crazy, and those who helped to provide bodies for the overflowing seats. You all made the event a huge fundraising success for the station, and the board and myself are very grateful.
It's wonderful to see folks come together in these uncertain times, forget their cares for a bit, and exhibit all that makes perpetually resilient small town America so endearing.

Many thanks to all and please pass it on,
Dave

---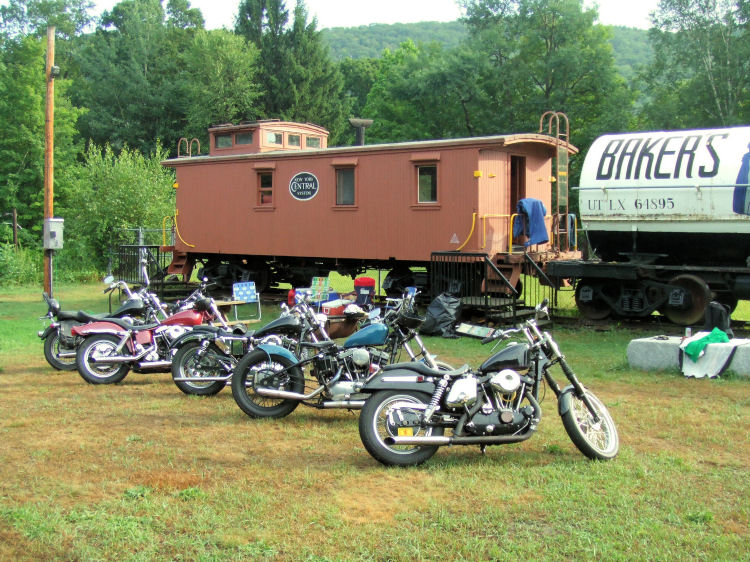 Caboose Rental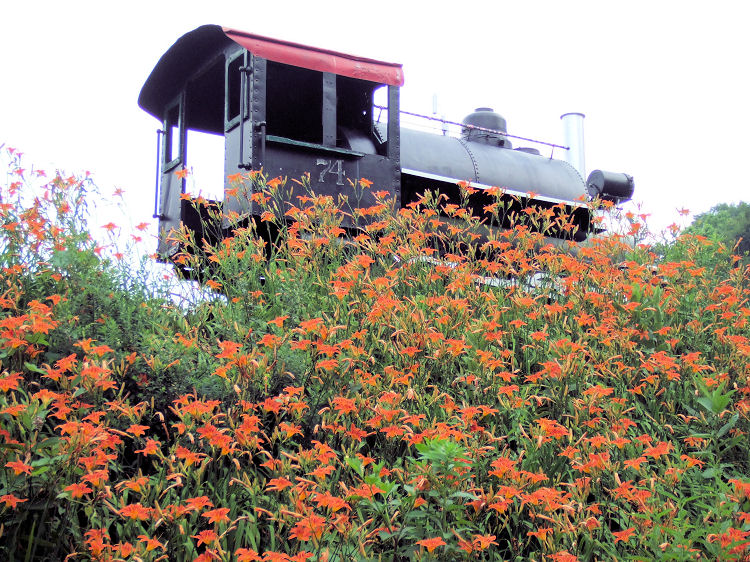 Lucy has a new Dress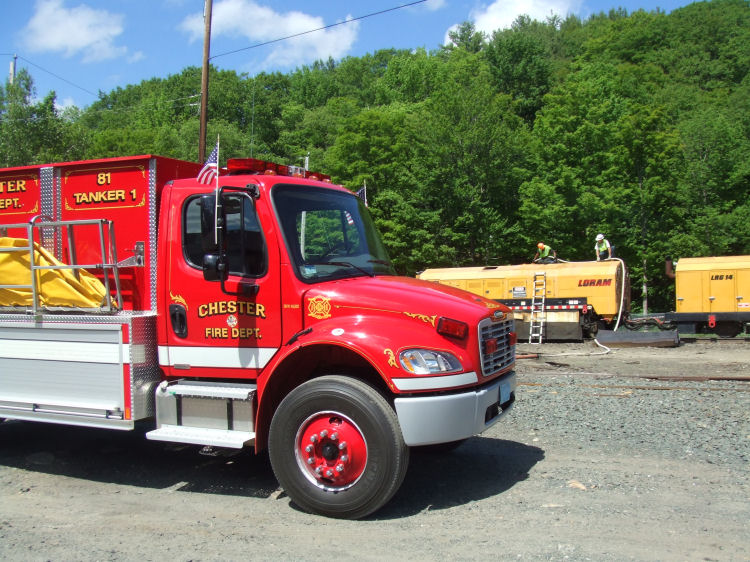 Chester FD rescued the grinding train by pumping them some water near the station.
---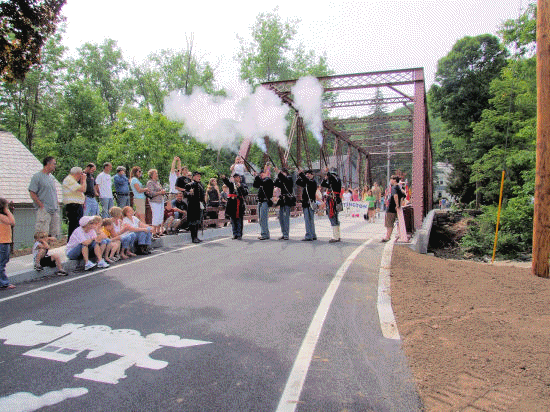 Chester Massachusetts.
Come join us all season long for a trip down the Chester Railroad memory lane at our 1840's restored Depot and Museum with rolling stock including an early steam engine, two boxcars you can enter with museum articles to study, a Baker's Chocolate tanker, our Blue Caboose kitchen with two cook stoves available for parties, a campout wooden caboose available for sleepovers and a small rail work car.
A full wrap-around deck encompasses the depot with a large stage at one end for concerts, speeches or just to have a relaxing picnic.
There is no charge to visit the depot museum and a modest fee to rent the facility. We do encourage donations to help support the stations existance. You will not believe what you will find at our treasured historic building and museum.
Study our web site and discover more of what we have to offer.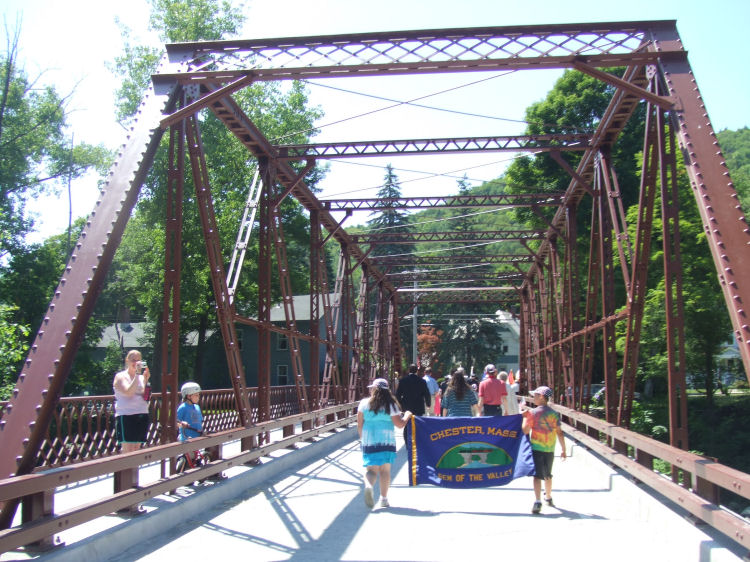 All Powered by
-----The Chester Foundation-----
---
Local Seasonal Activities:
Climb the ridges in Chester to get a different perspective of the Railroad, the valley and the station.
The Newman Marsh trail in the Chester Blandford state forest presents a
fabulous view of the railroad looking to the west!
Trailhead: Park at Sanderson Falls parking lot off of route 20 in Chester, trail starts 1/4 mile up Sanderson Brook Road. Total loop is about 2 miles.
---
First Mountain Railroad
---
Santa and Mrs. Claus arriving at the station.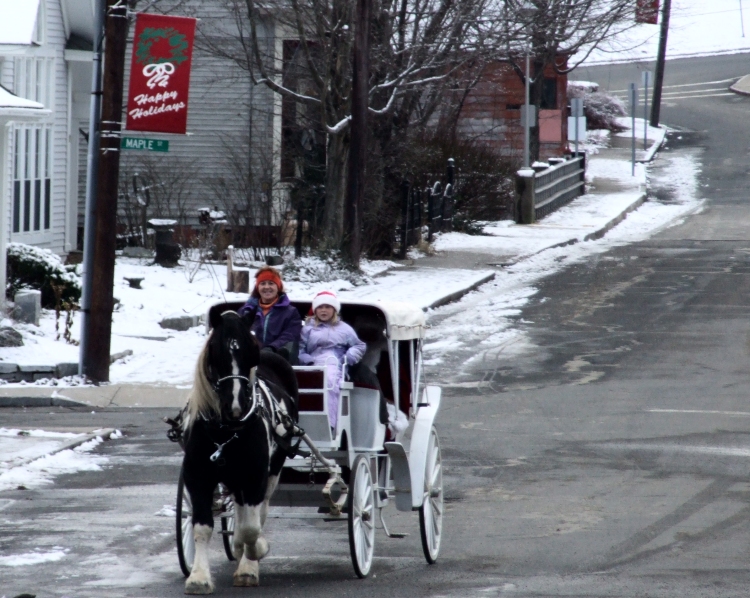 Everyone had a chance to visit with
Santa & Onia Claus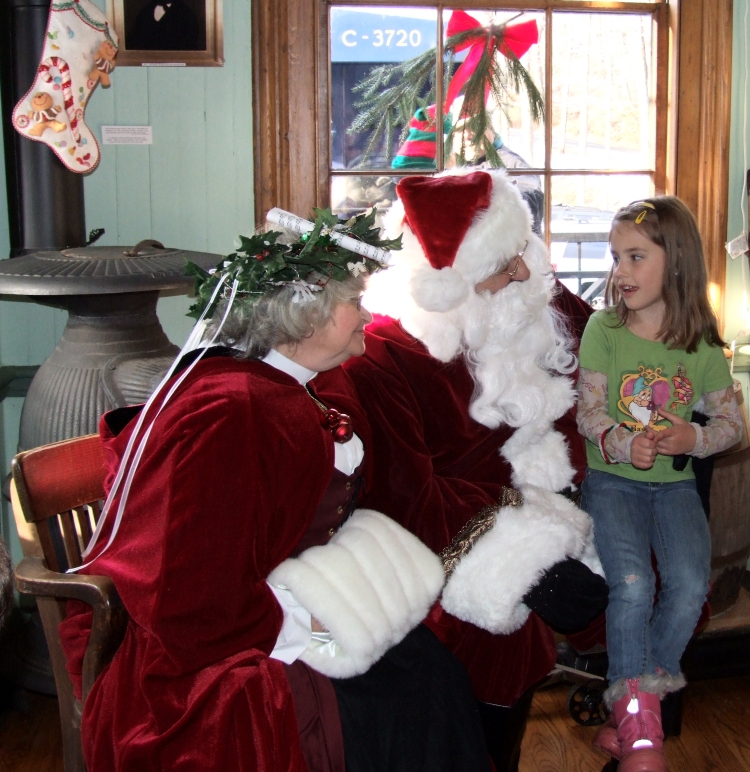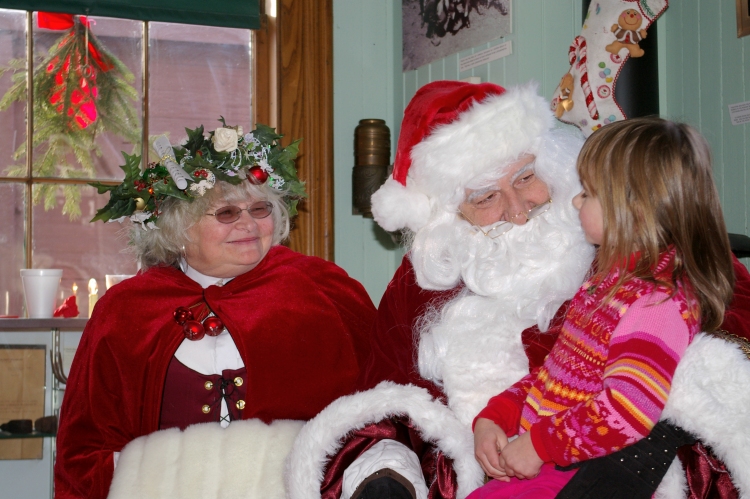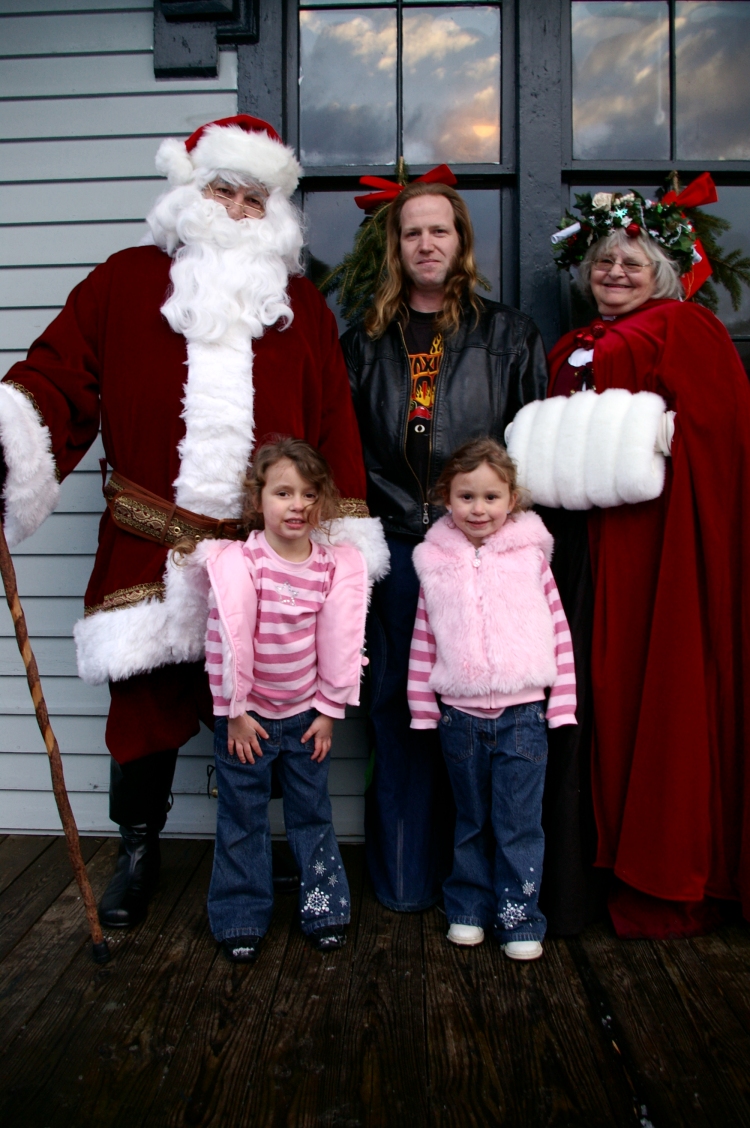 Mr. & Mrs. Claus then had to get back to the workshop to be sure the work is completed in time for delivery December 25th.
---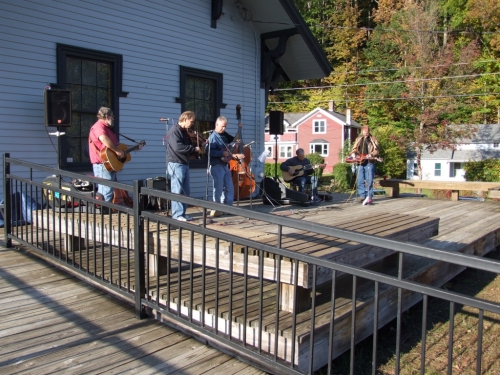 On the Stage/Deck Overlooking the South Lawn
at the Station
---
Our Blue Caboose
Before,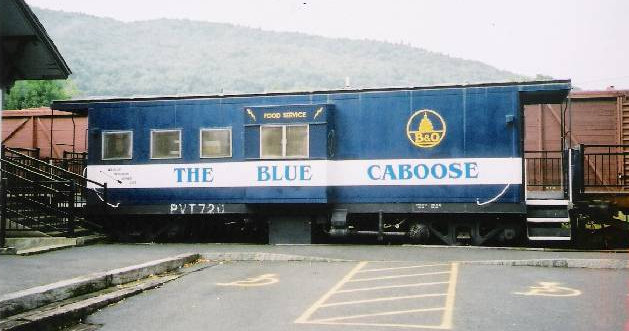 ....and After.
---
Thank You for coming to Chester On Track.
Click here for the days photos